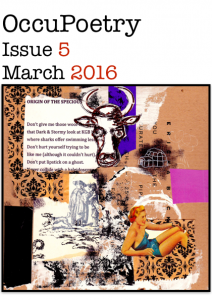 We are pleased to share with you the next and fifth issue of OccuPoetry. Packed with new poems that speak to the moment in which we find ourselves, Issue 5 picks up where our 2014 issue left off: our present is growing increasingly political. Thanks to Jeffrey Wright for the stunning artwork, including the cover image.
Paco Marquez took the lead pulling this latest issue together, so be sure to read his introduction. Paco was also recently featured in an art film; take a few minutes to learn more about one of the editors of OccuPoetry.
As always, our issues are freely available. Click here to download your PDF copy or read through the flip-version embedded below.
Issue 5 includes
Paco Marquez, Guest editor
Abigail Carl-Klassen
Lauro Vazquez
Conor O'Brien
Jeffrey Wright
Jane Hirshfield
Margery Parsons
Ryan Nash
Annelies Kamran
Linda Norton
Alexandra Appel
Bill Kahn
Charles A. Perrone
Ricardo Tavarez
Bob Schildgen
Richard Perkins
Rose Knapp
Shawn Aveningo
Barbara March
Dawn McGuire
Paige Webb
Clement Tsang
Tehmina Khan
David Moscovich
Iris Lee
Tim Kahl
Finally, as we gear up for our next issue, also check out our new submissions policy. In an effort to remain as inclusive as possible, we no longer require you to use submittable (and therefore no longer require a fee) for submissions to OccuPoetry. We will start reviewing poems in June, so if you want to wait until then to send your poems, you have time to make them as strong as possible.